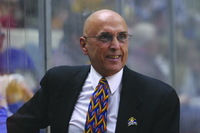 If the Richmond Renegades can't make a comeback, Richmond will be without professional sports. According to the hockey team's owner and general manager Allan Harvie, it's the third period and time to pull the goalie. In the interview below, Harvie explains the trouble with running a business downtown, the challenge of selling sponsorships and why baseball doesn't belong in the Bottom.
To read the background of the team's business difficulties, click here.
Richmond BizSense: Of the calls you've received from interested investors over the past week, have any pursued their interest further?
Allan Harvie: No, but we decided instead of looking outside for funding we'd go to our fans and ask them to help us sell out the Coliseum for the three games. In the short time since we announced our plan on the Yahoo Groups site, our fans have come up with a lot of out-of-the-box ideas. We've had an incredible response.
RBS: With sports teams and sporting events all over Richmond hurting now, what do you tell potential sponsors about why they should sponsor the Renegades as opposed to something else?
AH: Our sales pitch is the same as it was before the drop-off in sponsorships. We remind interested parties that ice hockey is the last professional sport we have in this city. Our games provide a lot of exposure to a great cross-section of people in a fun environment.  Our sponsors get a lot more for their dollar than they actually pay for. We put them much more out in front of the crowd than any other Richmond sporting event does.
RBS: More than ads at Richmond International Raceway or publicity for the Sports Backers' Richmond Marathon?
AH: Most of the ads at RIR are national ads sold by NASCAR, and the cost is prohibitive: a two-by-three-foot space is $50,000 a year. The marathon is the one local event that Sports Backers has gotten behind. For everything else, they're sponsoring different events in different venues all over the place. With us, a sponsor gets a targeted audience for a reasonable price.
RBS: Are sponsors more interested in certain kinds of exposure more than in others?  How does the Zamboni rate, for example, in terms of interest among sponsors?
AH: We customize all sponsorships once we learn who potential sponsors are trying to reach and what they want to accomplish. Car Pool has sponsored the Zamboni for the past two seasons. We play the song "Car Wash" every time the Zamboni goes out on the ice – that's a specific example of what we do for our sponsors.
RBS: Last week during a Richmond luncheon talk, you said, "We're in the entertainment business, and that's the last thing people are going to spend money on right now." Since you reduced ticket prices last week to $5 and $10 for the remaining games of the season [March 13, 15 and 21], are you seeing more orders come in?
AH: We've been flooded all day [Friday]. Our email boxes are full, and season ticket subscribers for 2009-10 are coming in.
RBS: What's your goal with ticket sales?
AH: If we can pack the Coliseum for the final three games of the season, we should net $150,000 – or maybe more – of the anticipated $250,000-$280,000 shortfall. Our goal is to pack the Coliseum for these games.
RBS: You have also mentioned the perceived lack of safety downtown.  Have you tried to counter that in any way?
AH: No, there's nothing we can do about that. The city has to deal with changing the perception. The reality is there's never been a criminal incident surrounding a hockey game here.
RBS: Another obstacle to sporting events that you've addressed is the unwillingness of residents south of the James to cross the river. Surely hockey fans are willing to do this, so are you referring to growing the sport through attracting new ticket-buyers?
AH: Precisely. The Wiley Bridge and Route 288 and the new malls at Stony Point and Short Pump have helped us because people cross town to go to the new shopping centers, but there are still people in Midlothian and Short Pump who've never crossed the river.  There are also people who've lived in the Richmond area for 10 years who don't even know we have a hockey team.
RBS: That's an awareness problem. How much do you spend on advertising and promotion?
AH: That's not for public knowledge. My entire budget is $1.3 million.
RBS: Where do you stand on the Diamond/Shockoe Bottom debate?
AH: I don't like it.  I've never asked a city or state for money. Public money should never be spent for anything to do with sports. There are better things to do with public money – like schools and health care. We have a perfectly good facility at the present location. I say rehab the Diamond. Furthermore, no one has been able to produce anything to show where they got the retail sales numbers they're projecting. Those figures are higher than the current retail sales numbers at either Stony Point or Short Pump mall.
I'm Canadian – but I do care about history, and Richmond has the distinction of being the world's capital of slavery at one point, whether we like it or not. We shouldn't pave over the slavery-related sites in the Bottom. That's a disservice to our African American heritage. It's part of America's growing up.