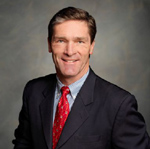 Henrico County has announced a new director of economic development.
Gary R. McLaren has been named executive director of the Henrico Economic Development Authority, replacing Fred Agostino, who retired in December.
McLaren, a graduate of the University of South Carolina, has been the deputy director of the Virginia Economic Development Partnership (second in command) since 2003. He served in various economic development jobs before that.
He starts April 20.
"Gary McLaren has been a key player in Virginia's economic development efforts for more than two decades," County Manager Virgil Hazelett said in a statement. "We look forward to his leadership here in Henrico."
McLaren will manage a budget of more than $13 million and six employees. He inherits a department that faces steep challenges to both existing businesses and the overall strategy of what sort of companies to bring to the area.
Within the past year, three major county employers, Qimonda, Circuit City and LandAmerica, have declared bankruptcy and laid off thousands. Another local retailer, S&K Menswear, also filed for bankruptcy protection and is facing a punishing retail environment.
Qimonda was hailed as an economic development coup when it chose Eastern Henrico in the 1990s for its microchip plant. That has proved to be an illusion, and regional economic development agencies are currently reassesing their strategy. You can read more about that in this Style Weekly story.