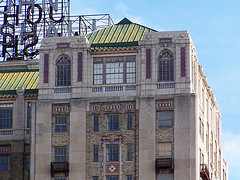 SATIRE:
The owner of the Hotel John Marshall has a new plan to transform the once grand hotel into a department store that will carry everything from hot tubs to tube tops.
"If Miller & Roads can be turned into a hotel and condos, why can't I turn my former hotel into a department store?" asked Tim Whatley, president of Dominion Realty Partners Inc., which owns the building.
"Surely it can't be harder than the project they've been working on, right?"
As recently as eight months ago, developers were trying to raise bank financing to retrofit the building as a hotel and condo project.
Now developers have laid out plans to transform the landmark building at Fifth and Franklin streets, which opened in 1929, into a fabulous multi-level department store that will include 30,000 square feet for a food court.
The remainder of the space will be divided into a different department on each floor.
The penthouse will contain golf equipment and the roof will have a driving range and unlimited balls that golfers can tee up and hit into the James River.
Added Whatley: "This will unlock amazing synergies. We are going to deploy strategic solutions and leverage technology. And don't forget our human capital. We will make significant investments in human capital," Whatley said.
A $100,000 report commissioned by the City of Richmond and conducted by the Raleigh-based firm Capitol Economix said the project could create as many as 140,000 jobs and lure 260,000 visitors to Richmond. Shoppers would spend $1,146 on average at the department store, the study found, especially if funnel cake were served.
Officials with the City of Richmond's office of economic development hailed the plan as a bold step forward for the city. Mayor Dwight Jones, who was on hand for the historic occasion, said the city would contribute $2 million in street renovations and other support.
"This is the sort of leadership we strive for and the out-of-the-box thinking that will bring big changes for all Richmonders," he said.
This story was completely made up. Some other headlines we were considering for April Fools' Day:
•    Richmond ranked No. 5 on Forbes' list of cities that love rankings
•    Richmond BizSense buys Times-Dispatch for $1.3 thousand
•    Mayor Dwight Jones commissions $120,000 study to examine the validity of $100,000 study of ballpark feasibility
•    Gov. Tim Kaine sheepish after getting a payday loan
•    Local consultant not sure why he gets paid $150 an hour