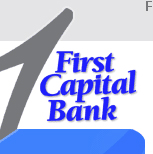 Eastern Virginia Bankshares and First Capital Bancorp announced today that they plan to merge. The all-stock deal is valued at about $27 million, with First Capital common stockholders receiving .98 shares of Eastern Virginia for every share of First Capital. Both banks are publicly traded on the NASDAQ stock exchange.
The new bank will have $1.5 billion in combined assets and $1.2 million in combined deposits. It will be headquartered in the greater Richmond area, and the operations center will be in Tappahannock. The deal is expected to be completed by the end of the year, pending stockholder and regulatory approval.
Executives from both banks said they haven't determined how they will brand the new bank. For now, the combined holding company will operate both banks under their existing trade names, EVB and First Capital Bank. According to bank executives, the combined operations will cut costs by 7 percent, most of which will be obtained through shared data processing.
Eastern Virginia is the larger of the two banks, with more than $1.09 billion in assets. Net income fell by 65 percent in 2008, from $8.8 million to $3.1 million, according to an annual report filed with the SEC. The bank also has a growing amount of troubled assets. At the end of last year, the bank held $17.1 million in troubled assets, according to Banktracker.com. (Troubled assets include loans more than 90 days overdue, non-accruing loans and real estate owned). At the end of 2007, the bank had $2.8 million in troubled assets.
First Capital had $6.56 million in troubled assets at the end of 2008, compared with $50,000 at the end of 2007. The bank saw net income plummet 90 percent in 2008 to $170,000, compared with $1.7 million in 2007, according to an annual report filed with the SEC.
John Presley, managing director and chief executive of First Capital, said that mounting troubled assets was not a motivating factor in combining the banks.
"If you look at the credit performance of both of our banks, we certainly have seen stress with this economy," Presley said. "But this is about putting together two healthy banks to make an even stronger one."
Presley will become managing director and chief financial officer of Eastern Virginia under the deal.
Both banks are recipients of TARP funds. Eastern Virginia received $24 million from the TARP program Jan. 9. First Capital is expected to report the amount of TARP money they received when they file their 8K this afternoon.
"[The TARP funding] certainly improves the capital levels of both companies, but it was not a factor in the total decision," Presley said.
Eastern Virginia Bankshares, which is based in Tappahannock, operates 25 retail branches under the name EVB. In the Richmond area, there are four branches in Hanover and one in Henrico on West Broad Street. First Capital Bank is based in Glen Allen and operates eight branches in the Richmond metro area, according to their website.
Robert G. Watts Jr. will serve as president and chief executive of the combined bank; he currently holds the same positions at First Capital Bank. Joe A. Shearin will remain president and chief executive of Eastern Virginia.
The deal marks the second community bank merger in Virginia this week. Union Bankshares and First Market Bank announced Monday that they were joining forces through an all-stock deal valued at about $100 million. You can read that story here.
Several Richmond firms helped assemble the deal. Keefe, Bruyette and Woods acted as financial adviser to Eastern Virginia, and Williams Mullen acted as its legal adviser.
Burke Capital Group, a division of Morgan Keegan, and Davenport & Co. acted as financial advisers to First Capital, and Cantor Arkema P.C. acted as its legal adviser.
Stick with RBS for more.