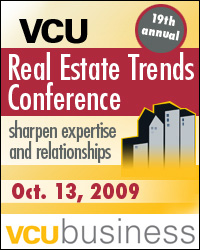 As the spring semester draws to a close, the Virginia Commonwealth University Board of Visitors is mulling over how to deal with reductions in the school's budget. Among the cost-cutting measures being considered are bigger class sizes, more adjunct faculty and a possible tuition increase.
Gov. Tim Kaine announced in October that state support for VCU would be cut by 5 percent, or $10.1 million, for the fiscal year that begins in June. An additional 10 percent was to be cut in fiscal 2010 for a total of $30.6 million, but an amendment to the state budget uses federal stimulus dollars to restore the $20.5 million. Because the federal money is a temporary fix, the school is planning on significant cuts.
Faculty members will not receive a salary increase this coming year, despite receiving salaries lower than those at the University of Virginia, George Mason University and Virginia Tech (according to data from fall 2007). The salary average at VCU is $6,000 below the average of its national peers, according to a presentation by the board of visitors.
The average VCU professor's salary is $110,500, and the average instructor's salary is $46,400, according to the presentation.
Pam Currey, the university's assistant vice president for finance, said that, with the drastic difference in labor costs, a shift is being made from full-time faculty to adjunct instructors and that class sizes would be growing.
"We haven't really had faculty layoffs, per se. It's been more of a [case] when you have a full-time faculty member leave, you replace them with three adjuncts," Currey said. "Where that is an advantage financially is: If you have full-time faculty, you pay benefits, and with adjuncts you do not, other than FICA [Federal Insurance Contributions Act] payroll tax."
Currey said VCU estimates fringe benefits into the cost of hiring a full-time faculty person, including retirement, health insurance and payroll tax. These fringe benefits make up more than 30 percent of their salary.
According to Currey, there are ongoing unavoidable costs for institutions like VCU, such as a rise in health-insurance costs for faculty state employees.
"For an institution with a budget like ours, they can easily be $8 [million] to $10 million a year in new costs that you didn't have the year before," Currey said.
For a person in an adjunct position, the university would not have to pay for health insurance or retirement, Currey said.
"[When an adjunct is hired], I don't pay anything but employer payroll taxes – that's less than 10 percent," Currey said. "That's a big difference, and that's where you'll see the drive-down in full time versus part time."
Another tactic the school might consider to address the budget is to raising tuition rates, although officials have previously said they did not plan on increasing them.
The board of visitors will be setting the 2009-10 tuition rates next month with the knowledge that Virginia has not established a tuition cap this year for any of its universities.
"I know that they're going to be very mindful," Currey said. "In February, when the budget cuts hit, they expressed the desire not to do midterm tuition [changes]."
According to a board of visitors presentation Feb. 12, the state offered its universities two budget-planning scenarios involving moderate tuition increases over the next six years. Neither plan figured for Virginia's current budget situation.
"No scenarios were included which assumed substantial decreases in state funding," the presentation stated.