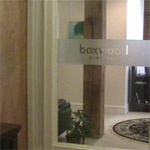 It has been a busy year for Boxwood Partners, an M&A advisory firm that also manages a private equity fund. After about a year in business, the company is ready to move  from its cozy offices in Shockoe Bottom into something with a little more space.
In June 2008, Boxwood made its first acquisition, Coffee Wholesalers USA. Now Boxwood is about to launch Snackwarehouse.com as a destination to buy gluten-free products.
"We think it is an underserved market. If you look on Google under gluten-free, it's not as competitive, but [it's] a very searched term on the web," said Patrick Galleher, one of the principals of the firm.
Galleher and founding partner/managing Director Bobby Morris work on the private equity and M&A deals along with a staff of five.
The firm raised several million dollars to start the fund. (Generally, private equity firms pool funds from wealthy investors to buy companies with the intent of reselling them.)
Snackwarehouse.com will initially share a warehouse with Coffee wholesalers, but Galleher said the firm is looking for more warehouse space.
Other BizSense Vids:
A tour of Martinair's offices and aircraft