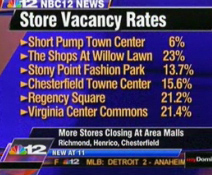 Our story about vacancy at Richmond malls found its way on to NBC 12 news last night. You can watch it here.
They used our methodology of counting vacant store fronts. That method is not ideal, since it doesn't take into account the size of a store. A department store counts the same as a hot dog shop.
However mall owners rarely release the figure, so unless a reporter could walk off the dimensions of each store and each vacant store, it's about the best stat we can produce. And it's also a good measure of the number of businesses closing.
This is the first time we've been mentioned on NBC 12. But we've appeared on CBS 6 several times.