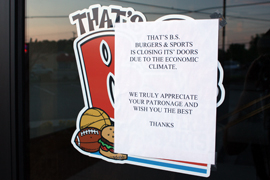 Two restaurants in Short Pump have closed their doors over the past week. The first, That's BS: Burgers & Sports, which opened just a few months ago in the old Ham's location at Broad and Springfield, couldn't survive the recession. A sign posted on the front door this past weekend says it all:
"That's BS: Burgers & Sports is closing its' doors due to the economic climate. We truly appreciate your patronage and wish you the best. Thanks."
The second to close is Paradise Pizza. Although not an entirely new restaurant, it was originally the West End Bottoms Up Pizza location, situated next to Bruster's Ice Cream in the Town Center at Twin Hickory shopping center but still run by the same owners and management.
Owner James Jones recently broke ties as a franchise of the Shockoe Bottom location after repeated customer comments that the Short Pump location's pizza wasn't held in the same regard as the original restaurant, despite the fact that, according to Jones, all pizza ingredients used were identical. There's no official word on the reason for Paradise Pizza's closing, but the restaurant didn't ever seem to draw a crowd since the name and food change.
There's no word on if or when any new businesses will occupy the space in either building.
This story orginally ran on Downtown Short Pump, a partner of Richmond BizSense.