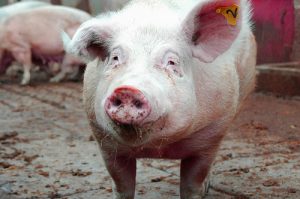 The Centers for Disease Control and Prevention is calling it the swine flu, and the nomenclature is a thorn in the side of the global pork industry.
In Virginia, Smithfield Foods could take a major hit from  pandemic fears over the deadly strain of the influenza virus because of the misconception that the sickness could be contracted by eating pork.
The pork industry is pushing the CDC and other health agencies to change the name to something less innocuous, such as "North American flu," "Mexican flu," or the clunky scientific name "H1N1 flu."
Even Virginia has released statement that pork is safe to eat, Smithfield's stock has been downgraded by analysts who say swine flu fallout could impact the company's restructuring if demand plunges and trade bans are established.
The Ethicurean has a more extensive roundup about the naming controversey here:  Aporkalypse now! Essential H1N1 "don't call it swine flu" reading.
But this isn't the first time fears of swine flu have swept the nation. In 1976, a swine flu-induced death at Fort Dix led to national panic. (Read more about that here.)
These public service announcements were produced at the time and, in light of recent media coverage over the latest outbreak, are worth a watch:
[youtube]http://www.youtube.com/watch?v=1qmsaNDZCYI[/youtube]