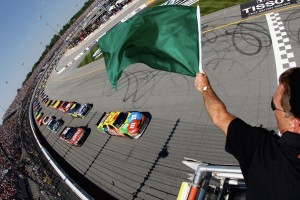 Lagging attendance, sponsorship losses, and the auto meltdown in Detroit hover over NASCAR, but the Sprint Cup race this weekend at Richmond International Raceway will still have a huge economic impact on the area.
There will be as many as 4,000 people working at the raceway complex over the weekend; the traveling vendors are still setting up shop; and RV parking will continue to provide a little extra income for nearby property owners.
The raceway generates as much as $467 million in direct and indirect economic impact each year, according to a recent study commissioned by RIR.
The financial impact of this race may be diminished somewhat, as evidenced by soft hotel bookings reported earlier this week by BizSense. But track officials are still hoping for a sellout, according to Richie Denzler who is RIR's manager of community and public relations.
"We remain optimistic for a sellout, but we don't know if that will happen," Denzler said, "All the tracks have seen people buying a little later."
Sellout or not, the dollar amount of ticket sales will be less than last spring's event. The track lowered ticket prices between 25 percent and 50 percent on 18,000 seats to $55 and $40. Prices were cut at the concession stands as well, by about 25 percent for most items. The concessions are run by Americrown, a subsidiary of International Speedway Corp. which owns RIR.
Denzler said ticket sales have started to pick up in the last two to three weeks. If there isn't a sellout it will be the second race in a row after a decade filling every seat.
As for good news, Denzler said corporate suites have sold out and the track is one of the few to add a new sponsor this year. Miracle Gro recently signed on as the fan hospitality sponsor. This is the fourth year Crown Royal has sponsored the May race.
RIR does stand to lose one major sponsor: Chevrolet. The division of General Motors, which is the sponsor for the September race, announced last summer it was cutting sponsorships at 12 tracks including RIR. BizSense reported in December that its contract with the raceway expires this year, and RIR spokesperson Aimee Turner confirmed the track would most likely have to find a new title sponsor for 2010.
Despite the economic doom and gloom following the NASCAR circuit this year, Denzler said this race doesn't feel any different than any other during the five years he has worked for the track.
It's still business as usual at the campground at Meadowbridge Road and Azalea Avenue according to campsite manager Robert Halstead.
The $150 fee to park an RV remained the same as it has for the last five races, Halstead said. He wasn't sure if the camper village would fill up this year, but he thinks it might.
"Personally I think people are ready to come to the race since they missed the last one," Halstead said. "The economy is bad, but gas prices are low."
Fewer than 200 campers arrived for last fall's race, compared to the 500 that usually fill the site. As of Wednesday there were fewer than 50, but Halstead said most campers don't arrive until Thursday.
Across from the campsite, several traveling vendors set up tents in a gas station parking lot.
Jay Smith, a vendor from Ohio, said race fans are buying fewer souvenirs than they normally would but sales so far this season have been dependent on race attendance.
"The well attended races, the business was better," Smith said.
Smith, who has been working 20 races a year for the last 10 years, said races in Bristol and Michigan are the best for sales.
"Richmond is about in the middle, but it used to be near the top," Smith said.
The economic impact of this year's race probably won't be near the top either, but perhaps because of the economy it's an even more vital engine.