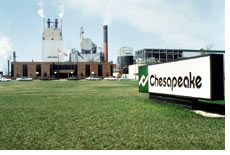 Chesapeake Corp., the Richmond-based paper packaging company, announced today its planned acquisition by New York-based Irving Place Capital Management and Los Angeles-based Oaktree Capital Management has been completed for $485 million.
The company's headquarters will move from Richmond to Amersham in the United Kingdom.
The company, which began as a pulp mill in West Point, filed for bankruptcy protection on December 30, 2008. According to the Chapter 11 filing, the company had more than $937 million worth of debts.
The acquisition marks the end of the company's reorganization and as well as its transition from being publicly-traded to being privately-owned.
Jerry Kerins, who has been named chairman and CEO.
Updated May 5 at 8:50 AM