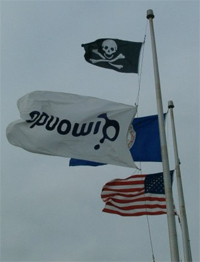 Last Thursday was Christopher J. Davis's last day at the Qimonda chip manufacturing plant in Eastern Henrico.
He turned in his badge and walked out into the courtyard. Instead of getting in his car and driving home for the last time, Davis had one last thing to do.
He lowered the Qimonda flag, which flies alongside the United States flag, the Virginia flag, and the Henrico County flag.
Davis then attached the Jolly Roger, the skull and cross bones design infamous for flying over pirate ships of yore, and hoisted both flags back into the sky. Pictures of the prank were posted on Davis' Facebook page.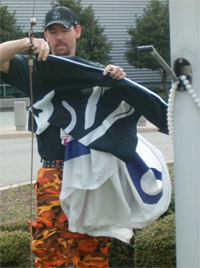 This story comes on the heels of other Qimonda news:
 Lakita Blair, also a former employee, recently filed a $40 million class-action suit federal court in Delaware over severance, wages, bonuses and deferred compensation.