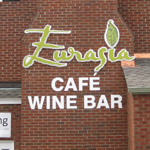 An acclaimed Virginia Beach restaurant is opening a second location at the Gayton Crossing shopping center in Western Henrico.
Eurasia Cafe & Wine Bar  plans to open on May 12 and will offer lunch and dinner service Monday through Saturday.
Co-owner David Edelen said the restaurant will serve Asian, American, and European inspired cuisine with an emphasis on local and regional ingredients.
The original Eurasia Cafe opened about two years ago, and has since won numerous local food awards. It wasn't long before customers and friends started asking them when the would open a location in Richmond, Edelen said. Fellow owner Jerry Flowers also lives in Richmond.
"We had to bow to customer pressure," Edelen said, "We've been looking about a year for a good spot."
The owners of Eurasia found that spot at the Gayton Crossing next to the Good Foods Grocery.  Edelen said the 2,400-square-foot property had been vacant for sometime, previously occupied by a Russian-owned deli.
He and his partners are investing around $350,000 to uplift the space to create an upscale dining atmosphere, complete with a pewter-topped bar and indoor seating for 75. An outdoor patio will accomadate another 20 patrons.
Edelen said that the Virginia Beach location has been performing well despite the economy.
"We've been killing it," Edelen said, "We haven't been affected in the least bit."
In fact, Edelen said that the sluggish economy put them in a better position to develop the second location.
"I found it refreshing because we had good negotiating power with landlords and vendors," Edelen said, "They want to get money."
Edelen said the restaurant will offer 20 wines by the glass and 50 by the bottle. They also plan to offer four beers on tap and up to 15 bottle selections, mostly microbrews.
The restaurant's chef, Dave Brue, has 12 years cooking experience and was the sous chef at the Virginia Beach location. Brue said keeping up with food trends and offering fresh daily specials are some of the keys to Eurasia's success. He'll move to Richmond to run the new kitchen, and joins Edelen and Flowers as partners in the business.