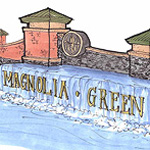 The financially troubled Magnolia Green Development, LLC (MGD) has been foreclosed on by its New York lender, iStar Financial.
The lender claims that MGD has defaulted on a loan of $96.9 million that was issued in January of 2007, according to legal documents.
The property will be offered for sale on May 19, the Times-Dispatch reports.
Representatives from either company could not be reached.
Located on Hull Street Road five miles west of Route 288, lower Magnolia Green is zoned for 3,550 homes. Build-out was originally expected to take 15-20 years. MGD also had planned to have 200-plus acres of retail fronting on Hull Street Road and three 20,000-square-foot retail centers inside the community.
The Westham Golf Club was to become a major focal point of the new community with houses surrounding the 18-hole course, but only the back nine holes have been built.
To make Magnolia Green more accessible, MGD and Chesterfield set up a Commercial Development Authority (CDA) to widen Woolridge Road to four lanes from the Swift Creek Reservoir to Otterdale Road and Otterdale Road from the intersection at Woolridge Road to Hull Street Road, a total distance of about four miles. The original timetable called for completion in 2012.
Six months ago, the county planned to sell bonds to finance the road construction, but that has been delayed due to the economy. When the CDA bonds are sold, it will place a tax lien on all residential and commercial properties in lower Magnolia Green for up to 30 years. Property buyers could pay off the lien immediately or over time. The amount of the lien will be apportioned among all residential, retail and office parcels.
One portion of Woolridge Road – 3,000 feet to replace three small bridges over the Swift Creek Reservoir – is currently being built with $12.4 million in county funds. That was the county's part of the bargain with Magnolia Green to set up the CDA.
"The CDA has already been formed, so it doesn't matter who owns the property," explained County Administrator Jay Stegmaier. "But the development has to be viable to reassure potential bond buyers that there's sufficient security to back the bonds."
Last August, MGD and two of its principals sued their lender in U.S. District Court in New York for $250 million plus damages estimated to exceed $100 million. The suit alleged iStar was attempting "to seize control and ownership of the Magnolia [Green] project…motivated and influenced by [the] defendant's precarious and embattled financial and legal condition, including multiple legal actions pending against it."
Later, iStar resumed its revolving line of credit, but according to one source, the interest rate was higher.
According to its Web site, iStar formed in 1993 and began trading on the New York Stock Exchange in 1999. Over the years it has completed $28 billion in financing transactions.
This article first appeared in the Chesterfield Observer, a news partner of Richmond BizSense.