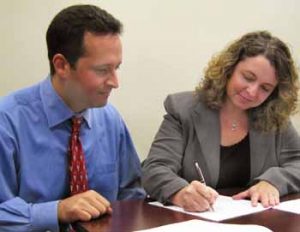 Richmond-based Impact Makers is a company without an owner and in CEO Michael Pirron's eyes that is just fine.
It doesn't bother BusinessWeek magazine either which named Impact Makers No. 2 in its national competition for The Most Promising Social Entrepreneurs.
Impact Makers certainly fit the contest's mission of being a trailblazing company that seeks to turn a profit while trying to solve societal problems.
Pirron, 38, is not sure what finishing second in the BusinessWeek competition will mean beyond the exposure, but it further validates his corporate concept of "a competitive social venture."
Pirron started the company in 2006 with one consulting contract, $50 in the bank and a revolutionary vision to make a lot of money and give it all away.
Impact makes money through consulting on health care, information technology and management systems, as well as provide web development. It has done work with huge corporations such as Nationwide insurance and the state of Virginia.
It gives its profits to non-profit organizations that Impact's board approves.
In its first year the for-profit charity had revenues of $507,000, CEO Pirron said. After expenses, the company gave $41,000 to its first non-profit partner, Safe Harbor, which assists abuse victims.
"That first year was our best year in terms of revenue," Pirron said. Last year the company had revenues of just under $300,000.
"We've been struggling a little with the economy," he said.
Still, Impact is committed to helping its non-profit partner, which currently is RxPartners, an organization that provides medicine for people throughout Virginia who can't afford health insurance.
Rx Partnership Executive Director Amy Yarcich praises Pirron and Impact Makers for the help they provide companies such as hers.
"I think the thing non-profits struggle with is sustainability," Yarcich said.
What the relationship with Impact does is provide dedicated funding without a lot of paperwork, which frees up her staff of three to do the work of distributing medicine. Beyond that, Impact not only provides money but also free consulting and technical assistance, she said.
Pirron said Impact provides a guaranteed $1,000 a month to Rx but the goal is to increase profits to where it could supply up to 20 percent of the non-profit's budget.
Impact also has a for-profit partnership with international consulting firm North Highland, which has a local office.
Rodney Willett, a principal in the Richmond office said his firm and Impact Makers have teamed up to work on at least 15 projects, which include contracts with state agencies and Fortune 500 companies.
Willett sees Pirron as a visionary businessman with unwavering passion for the business model he has created.
Impact is set up as a Certified B Corporation which means it is a for-profit that has to meet certain environmental and social standards.
Pirron is the founder and CEO. He makes a base salary of $75,000 plus 75 percent of the margin he generates up to $150,000. Then it goes down percentage wise based on margin above $150,000.
The company has a lean staff of six-full timers that fluctuates but has never been above nine. There is a board that has been as large as 17 members but currently is at 12. Pirron said the company is constantly seeking more board members.
The difference between Impact and other B Corporation firms, Pirron said, is that his company is intentionally ownerless. That means the company can't be sold which prevents a new owner coming in and changing the mission. If the company ever goes out of business the assets would be distributed to the non-profit partners.
Pirron's business model was shaped by numerous life experiences. He has lived in six countries and traveled extensively when he worked abroad for Andersen Consulting.
"What I realized then was that I was working with millionaire partners who were pretty unhappy with their lives," Pirron said. "They were jet setting all over the world. I saw a lot of money being spent and a lot of unhappiness."
He said he was very affected when he was in South Africa and every morning as he drove to his office he passed neighborhoods where poverty-stricken people were living in huts. It made him think a lot about the distribution of wealth.
Pirron, who holds a degree in commerce from the University of Virginia, decided after leaving Andersen and doing some independent consulting to get his MBA.
He went to Northwestern and it was there in 2001 for a "Leadership and Ethics" class that he wrote a paper that outlined the business structure that would become Impact Makers.
He ended up in Richmond by taking a job as a systems manager with Health Management Corp. in 2003 and then became director of product development with First Health Services Corp. in 2005. He left a year later to start up Impact Makers.
His goal is to grow Impact Makers to a company with income of $1 million a year. At that point he would find a top executive to run the company and he would become a director and stay involved in pushing the company forward.
His biggest fears are to have a board that becomes less engaged over time or a company that stops growing.
"It takes a certain amount of personal energy" to keep a company going, he said.
Pirron said he is happy with where the company is at this stage and much happier in his life than he was working for a corporate giant.
He lives in the Fan District with his wife, Shannon Griffin, and daughters, Talia, 7, Eliana, 5, and Naomi, 16 months.
For hobbies, he enjoys tennis, swimming, playing chess, reading and playing guitar.
But when the topic turns to Impact Makers it's clear that's where the passion lies.
"It's important to leave the world a better place than you found it," Pirron said. "Here's what I can do.  This is the little thing I can do."