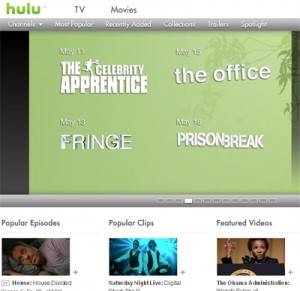 Earlier this month, locally based used car retailer CarMax started advertising with TV shows that stream online.
According to the company, CarMax is testing the waters with Hulu.com, a popular and fast-growing website where users can watch TV shows from the likes of NBC, Comedy Central and Fox. The videos include full-length shows and clips. For example, this hilarious SNL clip from last week that might not be appropriate at work.
"Nearly one out of four people in our target audience are watching videos online. CarMax's core target audience is 50 percent more likely to watch online video," said Marcy Brye, CarMax's manager of media planning, in an email. Brye did not specify exactly what that target audience is.
The ads are part of the company's "Smart" campaign. I can't find the exact online, but its like the ads here.
"Hulu's platform is an attractive one because there are limited commercial breaks and advertisers in the program, making the likelihood for the ads to be viewed that much greater," Bryce said. "As it becomes increasingly difficult to get our message in front of consumers through traditional media, we must continue to diversify our media plans.  Currently, our ads on Hulu remain a test and it is too early to tell if we'll continue this in the future."
This brings up an interesting media-related business conundrum, one the news business has struggled with for longer than the honchos at the movie and TV studios. What happens when content goes out online?
To be sure, online video — the kind on Hulu, not YouTube — is exploding. But while it's great for TV viewers who hate watching commercials, it seems like the networks are killing their own product. Instead of showing a handful of 30-second ads during each commercial break, Hulu currently only shows one 9-second ad during breaks and interrupts the show less often than on TV. It's a great way to watch, no doubt. But people need only have high-speed internet at home to watch the programming, meaning they could do away with their TV bill altogether and just get high-speed internet. That would also mean they wouldn't need to buy all the channels they don't watch, which would then harm the overall cable industry.
The last thing Comcast and all the lower-tier stations want is for people to be able to watch shows a la carte.