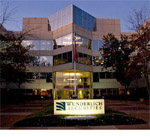 An out-of-state brokerage's bid to buy Anderson Strudwick has been called off.
Employees at the Richmond brokerage, which is one of the last independent ones in the area, approved the $5.9 million deal in April and were waiting for checks for their stock (Anderson Strudwick was employee-owned). Apparently those checks never came. Click here to see the financial details of that deal.
Tennessee-based Wunderlich Securities did not go through with the deal, but sources familiar with the company do not know why Wunderlich backed out. Calls to Wunderlich went unreturned.
Anderson Strudwick employees heard the deal was off late Friday. The company, meanwhile, has been shedding staff, including employees from the HR, accounting and trading departments.
The deal had some false starts, but Richmond BizSense reported April 16 that the deal was a go. The slowing economy caused Wunderlich to try for a lower bid.
Aaron Kremer is the BizSense editor. Please send news tips to [email protected]