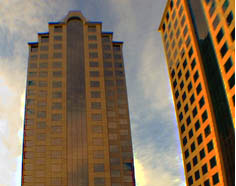 Hunton & Williams cut 23 lawyers and 64 staff members at various offices around the country, according to the Times-Dispatch. It's unclear how many are at the Richmond headquarters.
According to the AmLaw Daily, that's two percent of the Richmond-based firm's 1000 lawyers and six percent of its staff.
Large law firms like Hunton are dealing with dwindling revenue, especially in their divisions devoted to mergers and acquisition and commercial real estate. The Am Law Daily reports that profits per partner fell 3 percent in 2008 even though revenue increased 2.2 percent.
Large firms around Richmond have been quietly snipping staff. But BizSense surveyed the local legal employment situation in a story here and ago and found that layoffs were still rare.
Please send information to [email protected]