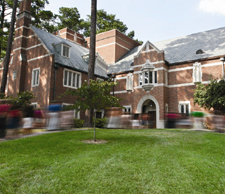 The Robins School of Business must again search for a dean after a finalist for the job turned it down.
Citing financial considerations, Henry N. Butler, a law professor at Northwestern University, has withdrawn as the next dean at University of Richmond's business school, according to an email sent to faculty and staff.
The committee will regroup and restart the search late in the summer, said Provost Steve Allred, adding that economics professor Robert Schmidt will serve as interim dean.
The process has generated numerous rumors on campus and among alumni, and many were expecting a final announcement this week. The previous dean, Jorge Haddock, will become dean of George Mason University's School of Management.

Butler graduated from UR in 1977 with a bachelor's in economics, and he received his master's and PhD at Virginia Tech.
In 1992, Butler ran unsuccessfully for Congress in Northern Virginia's 11th District. At the time, he was a law professor at George Mason University.  According to news reports from the campaign, the race turned ugly, and unseemly revelations sunk his political ambitions, although he considered running again before taking a professorship out of state.
Butler forged a successful career in academia teaching at the University of Kansas, Chapman University, the Brookings Institution and Northwestern. He has written dozens of articles and books on law and economics.
Allred thanked the search committee for their work and said he was convinced that they would find an excellent dean.
"I am a proud alumnus of the University of Richmond, and I am very disappointed that Provost Allred and I were not able to reach a deal that made it possible for me to come back to Richmond," Butler said in an email to Richmond BizSense. "Richmond has great students, faculty, staff and administrators."
UR's Director of Media and Public Relations Brian Eckert said in an email that neither he nor the business school were able to comment further on the search for a dean.
David Larter is a BizSense reporter. He covers the local universities as well as the non-profit and healthcare sectors. Please send news tips to [email protected].