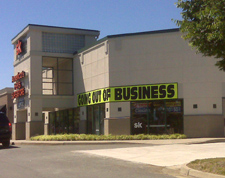 And now come the bargain hunters.
At 1:30 Thursday, around 15 to 20 shoppers cruised through S&K Menswear on Broad Street looking for bargains. Most left the store with several items on first day of the chain's going out of business sale.
The deals seem to be much better than when Circuit City started its liquidation sale, when employees there told BizSense that the liquidator had actually raised prices on some items.
Signs are up all over the one S&K store we visited advertising 50 percent off sportswear, 50 percent off belts, 40 percent off ties and shoes and 30 percent off suits. The bankruptcy filing noted that merchandise was getting lean at the stores, but the shelves at the S&K on Broad Street seemed well stocked.
Employees at the S&K store on Broad said the store was been packed and had a general hectic feeling.
The four stores in Richmond will be open for the next 90 days according to employees there, but S&K has had trouble securing inventory because suppliers are nervous about giving merchandise on credit, so it's possible the sale will be shorter.
BizSense has not learned yet when items from the office headquarters will be sold.
The liquidation of S&K's assets and 105 remaining stores was approved in court Wednesday.
David Larter is a BizSense reporter. He got a pair of shoes and a tie while he was at S&K. Please send story tips to [email protected]