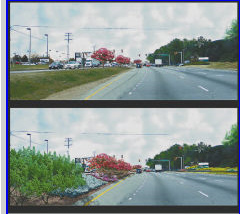 The Midlothian Initiative to Revitalize Rights of Way plans to ask the Chesterfield Board of Supervisors this fall to raise property tax rates on some businesses along Midlothian Turnpike to pay for $340,000 in landscaping.
The special tax district proposal calls for a 2 cent increase for the first five years and then one penny each additional year to pay for maintaining those median strips at an annual cost of $68,000.
The affected area of Midlothian Turnpike is from 400 feet east of Johnston Willis Drive to 500 feet west of Alverser Drive. Those 241 property owners were invited to a May 12 meeting at the Koger Center, but only about 15 showed up. The business owners who were there unanimously favored the concept, but Revitalization Director Tom Jacobson said MIRR will consider holding another meeting before taking the proposal to the supervisors.
To consider the special tax district, the board will have to hold a public hearing and then vote on the district. The project is in Clover Hill Supervisor Art Warren's and Midlothian Supervisor Dan Gecker's districts, and both have emphasized revitalization. There is no funding in the county's capital improvements plan for this project.
"You can pay $200 more on a business valued at $1 million or watch your property decline in value," said Ray Birk, who heads MIRR and is vice president/general manager of Super Radiator Coils.
Al Meyer, a commercial real estate agent, added that, "This corridor is an economic engine for the county. It's something that has to be done."
For several years now, Chesterfield has emphasized its older commercial and residential neighborhoods by establishing a revitalization department headed by Jacobson. "The time to work on older neighborhoods is when they are still healthy," Jacobson reminded the group.
The 1.5-mile stretch includes Chesterfield Towne Center, the Johnston-Willis campus of CJW Medical Center and numerous auto dealers. The county is placing more emphasis on revitalization because of the downturn in the economy and the increasing vacancy rate for retail and office space in the corridor. Chesterfield officials want to be proactive to avoid the business decline that occurred on Midlothian Turnpike east of the Powhite Parkway, including the demise of Cloverleaf Mall.
The meeting included a PowerPoint presentation by landscape architect Lauren Fisher on what the streetscape could look like after the landscaping is completed. The annual maintenance will include plantings, plant care and trash pick-up.
Normally, the Virginia Department of Transportation maintains highway medians. "VDOT can't do anything more than mow the grass," said Jacobson.
The Timmons firm was hired to develop a proposed streetscape. That joint effort was paid for by the county and the Greater Southport Association, an organization that represents many businesses located in the southeast quadrant of Midlothian Turnpike and Courthouse Road.
Last fall, MIRR initially proposed a special tax district on a much larger area to raise $1.7 million for streetscape improvements. That proposal earmarked $1.4 million for sidewalks and $300,000 for beautifying medians along Huguenot Road, Midlothian Turnpike and Koger Center Boulevard. New sidewalks would likely have required easements.
Greg Pearson is the editor for the Chesterfield Observer, where this story first ran. The Observer is a BizSense news partner.