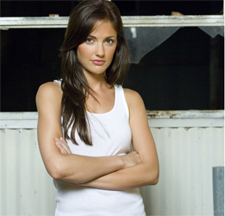 Richmond won't be standing in for Washington this fall after all.
Film crews and Hollywood stars arrived in Richmond in April to shoot a pilot for the CW network called The Body Politic. The drama centered on a small-town girl (Minka Kelly of Friday Night Lights) turned congressional staffer.
But the network passed on the series, which is bad news for local hotels, dry cleaners, restaurants and other services that would have catered to the production. Virginia Film Commissioner Rita McClenny said in an interview with BizSense that the series would have had an estimated $30 million impact on the area if filming continued in Richmond.
A package of clips from the pilot was posted on YouTube. In it, you can catch glimpses of Monument Avenue and interior views of the Capitol.
[youtube]http://www.youtube.com/watch?v=tPgjsJX84Tk&feature=player_embedded[/youtube]
According to several Hollywood trade publications, the pilot was one of the best produced for any of the networks but did not fit in with the CW's target demographic of 18 to 25 year old females. There is a glimmer of hope, however; one report said the network president did not rule out picking up the show for a mid-season replacement.