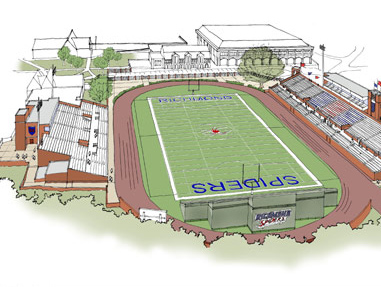 Even with shrinking endowments and more cost-conscious students, local universities are plowing ahead with major construction projects, building dorms, athletic facilities and research centers. That's been a blessing for some local firms.
Virginia Commonwealth University and the University of Richmond are spending $155 million on current projects. And VCU plans to spend $158 million on a 200,000-square-foot addition to the medical school. (The architects for the project include the renowned firm Pei Cobb Freed, which designed the controversial glass pyramid in front of the Louvre.)
VCU is also planning to spend around $44 million on a 100,000-square-foot general classroom building for the Monroe Park Campus.
Virginia Union has some small projects going on, such as renovations to an exercise facility, but has not embarked on any major construction. Randolph Macon is not building anything currently, the school said.
UR has four projects under construction:
•    First Market Stadium, an 8,700-seat home for the football team, is estimated to cost $24.8 million and be open for 2010.
•    The Westhampton Center, an addition to the Westhampton College Deanery, will be used for meeting space and additional resources for the leadership of Westhampton College.
•    Queally Hall is a 33,000-square-foot addition to the Robins School of Business.
•    Weinstein International Center will be used to expand UR's study-abroad program and serve as the new home of the language department.
VCU has three major projects under construction:
•    The School of Dentistry, a 55,800-square-foot addition costing $21.6 million, is set to open in at the end of June.
•    The Larrick Center, a recreation and dining facility at MCV, which will cost $15.6 million. The recreation part will open in August. The dining portion will open in January.
•    The Cary Street Recreation Center is a $45.7 million project that includes renovating the old Cary Street Gym and building a 131,000-square-foot support facility.
Several local construction firms are handling some of the work, which is helping them survive as commercial construction grinds to a halt.
Matson Roberts, a principal at RVA Construction, which is building the Westhampton Center, said the $3.52 million allowed his firm to hold on to current employees and create several new jobs.
UR and VCU have contracted with Hourigan Construction. Hourigan is building First Market Stadium and an addition to the VCU School of Dentistry, projects that total more than $45 million dollars.
Kjellstrom and Lee Construction is building a $45.7 million renovation of the Cary Street Recreation Center for Monroe Park Campus and the new Larrick Center recreation and dining facility at MCV, which is estimated to cost $15.6 million.
Meanwhile, back at UR, Taylor and Parish Construction is building the $20.42 million Weinstein International Center.
Some of the projects at both schools were in the planning stages back in 2006 or earlier, before the economy tanked. But there may be a plus side to building now. The University of Richmond said it has been able to negotiate better prices for construction than several years ago.
David Larter is a BizSense reporter. Please send news tips to [email protected]