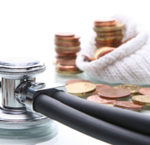 Every cost is on the cutting board these days for small businesses, including health insurance for employees, which can run into the tens of thousands of dollars per employee per year.
In 2007, 7 percent fewer U.S. small business (defined as firms with less than 200 employees and less than $50 million in revenue) provided health insurance for employees compared with 1999, according to the Kaiser Family Foundation.
Insurance agents in Richmond who help businesses select plans say they are hearing from every one of their clients as the recession forces business owners to find savings.
Campbell Pendleton, an account executive at Brown & Brown Insurance, said he is hearing from all sorts of businesses that need cheaper insurance or want to cancel outright. One carpet cleaner thought about canceling its group coverage.
"First he asked to see what the cost difference would be if gave each employee an individual plan and bonuses to employees," Pendleton said. "It turned out not to be less expensive. And the coverage wasn't as broad, either. Then he fell back and said to not give employees any benefits. He got a mass riot trying to do that and backed off."
Businesses do not, legally, need to offer insurance. But for many it is a recruitment tool, especially for businesses that rely on older workers who could not afford insurance. Businesses that employ workers in their early 20s can more often recruit workers without offering health insurance.
Two years ago, Michael Wilerson, a chief financial officer at Dominion Equipment Parts in Ashland, could no longer keep offering the same premium plans for his 30-odd employees.
"Up to that point we were paying 100 percent of the costs for family coverage," he said. "We had to hold the line. So now whatever our figures, any costs above that, the employee has to bear."
Employees still have to shell out for a significant share of their health care costs, around 41 percent, according to a report issued by the actuarial consulting group Milliman. Premiums that workers must pay increased by 14.7 percent from 2008, according to Milliman.
Milliman also reports that the average total medical costs for a typical family of four will reach $16,700 in 2009, up 7.4 percent from 2008.
Check out this story here about a business owner who doesn't want to offer health insurance but does,  and look tomorrow to read a story about the health of the VCU Health Systems.
Aaron Kremer is the BizSense Editor.