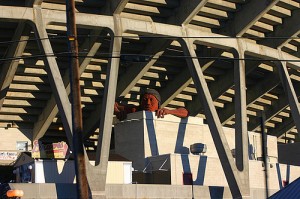 The current deal for the Richmond Baseball Club to buy the Connecticut Defenders is going to expire, the investor's spokesman told the Norwich newspaper The Day:
Peter Boisseau, spokesman for Richmond Baseball Club LC, which had a deal to purchase the Defenders for $15.4 million and move the team to Richmond, said this morning there is no way that deal could be saved by the Sunday deadline for closing the sale.
"That deal is going to expire," Boisseau said. "The deal could not be consummated."
Boisseau said financing and the current slow economy "played a role" in the business group's inability to complete the deal.
The sons of Nolan Ryan are scouting Richmond today as the company co-founded by the pitching legend considering a stake in the team, but Boisseau told the paper even if they jump on board it is too late to get the financing together in time to meet the deadline.
According to a previous report from The Day, current team owner Lou DiBella said the Richmond investor group will lose a substantial deposit if a deal isn't reached in time.
From the article:
DiBella said he has not heard from Bostic's group in two weeks, and added that the prospective buyers would lose a substantial deposit come Monday if the deal is not concluded.
"Clearly these guys don't have the means to close on their own and are looking for a partner," DiBella said.
Ryan-Sanders Baseball owns and operates two minor league teams in Texas, and has made no commitment as of yet to assist with the Defenders deal.
Local media has reported the investor group led by businessman Bryan Bostic is short of the estimated $15 million needed to buy the team. News broke this week that Ryan's company, co-founded with former Houston Astros owner Don Sanders, is considering potential ownership of the franchise and possibly investing in the ballpark planned for Shockoe Center.
Eastern League president Joe McEacharn is also in town visiting the Diamond and Shockoe Center site with the Ryans. McEacharn has previously said he is committed to bringing a team to Richmond to play next season, whether it is the Defenders or another team.