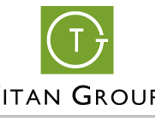 Local HR consulting firm TitanHR has merged with CT Executive Benefits.
CT Executive brings two principals and an analyst, said Genevieve Roberts, a co-founder at Titan.
The new firm will retain the Titan name and move to a 4,400-square-foot office at Paragon Place off Glenside Drive in Henrico. Titan currently has a 1,400-square-foot office that they are looking to sublease.
Roberts said the firm also hired an employee who will work from Roanoke, which is a new market.
Disclosure: Titan was a partner with Richmond BizSense for a compensation study, which we used in a story. No money changed hands.