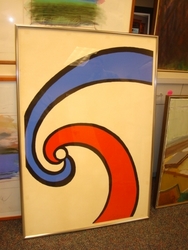 Stashed away in a closet in the former Circuit City headquarters, a piece of work by a world-famous artist was found by the liquidation firm.
Now the hand-signed lithograph by Alexander Calder is for sale by the firm on eBay.com. As of Monday at 4:19 p.m., the bid was $2.25 with two bids.  The reserve price is not listed and hasn't been met. Shipping is $100.
Similar prints by Calder have asking prices between $5,000 and $10,000 from online art dealers.
Calder is best known for inventing the mobile, and examples of the large hanging sculptures can be found suspended from museum ceilings around the world, including the National Gallery of Art in Washington and the Philadelphia Museum of Art.
The piece found at the old Circuit City headquarters is a limited reproduction by the artist of his 1970 painting "Wave." It is numbered 113 out of 120.
In an interesting coincidence, the liquidation firm, Liquid Asset Partners, is based in Grand Rapids, Mich., where in 1969 the first federally funded piece of public sculpture was created by Calder and installed in a plaza in front of city hall. The sculpture, "La Grande Vitesse," is defining symbol of Grand Rapids and appears on its flag, street signs and logo.