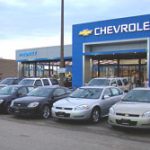 GM is expected to file for bankruptcy today. That will be the second domestic car manufacturer in as many months. Both GM and Chrysler have decided that they must cut the number of dealers around the country. And that means cuts in the Richmond area, where the industry employs 3,500.
For dealerships that have been told to close, the pain is still raw. In late 2008, BizSense chatted with Donald Hall, the president of the Virginia Automobile Dealers Association. We caught up with him again this week.
Richmond BizSense: A few local GM and Chrysler dealers received notice that their contracts won't be renewed with the automakers. What is the manufacturer's rationale for making their picks?
Don Hall: The term I use is that they are being terminated. It is devastating to a number of the dealers that have gotten the letters. In many cases they have new or brand new facilities.
With GM, some dealers have been targeted where they have an import line affiliated with their GM line. They are not in the same building but maybe on the same property. GM is of the opinion if you have other franchises it may cause you not to be as hardworking for GM.
I have dealers on this list that were granted additional GM lines in the last eight months and got a letter. It's fickle, but that is how they work.
RBS: So for terminated dealers, what will happen to their business?
Hall: Chrysler dealers have received notice that as of June 9 they are no longer in business. Locally they are Airport Chrysler Jeep and Pierson Dodge.
Dealers mentality-wise are eternal optimists. Most of them are moving quickly to see if they can't dump inventory and sell off as much as they can. Secondly, they are looking at facilities. They have these huge facilities, like Lawrence does at the airport – it's a beautiful facility. They are trying to switch over to a high-end used car operation.
Pearson is doing the same thing in Midlothian.
RBS: Because Chrysler is in bankruptcy, their dealership cuts were made public. GM, however, hasn't filed bankruptcy but is headed that direction. How many GM dealers in Virginia do you know of that have been cut?
Hall: In Virginia, we know of about 15 that got letters. We have to believe there are more. There are 400-plus more dealers in the country that will receive notice later this year.
RBS: The Small Business Administration announced a program last week to guarantee inventory loans between $500,000 and $2 million up to 75 percent. Will this program help dealers, and will banks go for it?
Hall: I don't know what it will do or not do, but the biggest problem we have is floor planning. Banks offering lines of credit and getting customer financing continues to be a big problem. The big banks are not freeing up money. In Virginia, community banks have done a good job where they can assist. I hope the plan works, but I don't know.
RBS: What are the ripples effects that closing a dealership has on the local community?
Hall: Car dealers historically have been big contributors to little leagues and other causes. Money is coming from car dealers all over Richmond – that is their nature, they are giving people. When you have less players in the market, it hurts everybody.
It will also lead to less competition. It will be harder to get the deals you want. When the numbers of dealers in a marketplace are reduced, that creates less options for consumers.
RBS: Dealerships have been offering lots of promotions to keep business going, sometimes offering vehicles at huge discounts. How is this possible, and is it sustainable?
Hall: Dealers don't make anywhere near the amount of money people assume they make. These are real-life figures from a national magazine: In 2008, the average gross profit on a new vehicle was $1,292. In 2009, it was $1,201. That is before commission, advertising expenses and inventory interest.
The reason there are incredible discounts is where manufacturers come in and offer the dealership extra dollars to sell the cars.
Business is still off quite a bit, and we haven't turned any corners. We've been in recession for 18 months. Import dealers' sales are off 30 percent to 35 percent, domestic dealers are off 40 percent to 45 percent in monthly year-to-year comparisons.

RBS: What are dealers learning from all of this?
Hall: What they all have done is evaluate all of their expenses and look at how they pay people, what they do and how they contribute to their communities.
Most of these guys are second- and third-generation owners, and this experience has taught them to sharpen their pencils. They have begun to release people. Marginal employees – in good times we would keep you around. These days, if you are marginal, you are not going to keep your job.
RBS: What jobs have dealerships been cutting and at what levels?
Hall: Most of the cuts have been in the support and other staff, including even technicians. In 30 years, you've never heard about technicians being laid off.
The average dealership in Virginia employs 43 people. In greater Richmond, it's higher on average. That is going to drop off about 15 percent to 20 percent on average by the end of the year.
More Reading:
"Industry Fears Americans May Quit New Car Habit", New York Times
Al Harris is a BizSense reporter. Please send news tips to [email protected]