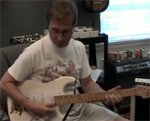 Lindy Fralin's business on Laburnum Avenue looks like a high-school shop classroom, with five workbenches and half-finished projects lying around.
But like a rock star's press office, the walls are covered with fan mail.
To thousands of guitar aficionados, Richmond is known as the return address for one of the finest craftsmen in the world.
That's because Fralin has built a rabid following for his Richmond-made guitar pickups, magnetic and copper wire apparatuses that translates the vibration of metal (the strings) into sound and send it to the amplifier. A typical electric guitar or bass has two or three pickups.
"We make guitar pickups here." Fralin said. "That's all we do. And a guitar pickup is just wire wrapped around magnets." But the wire and magnets from this shop will run you from $80 to $120 apiece.
Fralin has seven employees: four full time, two part time and his wife, who does the bookkeeping. The operation moves almost 10,000 units and generates almost $1 million in sales annually, he said.
And he's in the enviable position of building the company with zero advertising. Instead, his customers sing his praises, and they have been since well before Twitter and Facebook were the buzz du jour.
"Everything here is handmade," he said. "It's pretty low-tech in here. But all our work is guaranteed. If someone doesn't like the tone they are getting, we'll take it back and build a new one."
Although Fralin wouldn't comment on the specific names of his clients, the rumors around the guitar shops in Richmond are that guitarists including Neil Young and Pink Floyd's David Gilmour have guitars with Fralin's pickups in them.
Country singer Brad Paisley uses them, too. According to his website, he has two guitars with Fralin pickups in them, including his 2003 Crook Custom "Buck-O-Caster," which he played at the 2003 Country Music Awards,
and the 2004 Crook Custom "Salsa," which he plays in his video for "The World."
Fralin didn't intend to start a business. He began working on guitars in the late 1980s and learned about pickups when he became interested in the electronics. Back then, he tinkered with the magnets and wires as a hobby. Local guitar shops told him there was a need for people with that skill.
"I started the business in about 1992," Fralin said. "Before then, I was just a low-rent guitar repairman."
Fralin's business has been growing every year of its existence, but like every business owner in this economy, he has been slowed by the recession.
"Our prices have stayed the same for years," he said. "But this year, just when I was sure I was going to raise them, the recession hit. But we're still selling more and more, we're just making less per pickup."