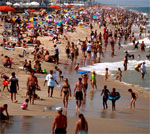 The first day of summer is weeks away. Last summer, the industry faced high gas prices; this year, the economy is bearing down on residents' vacations.
But Alisa Bailey, president and chief executive of the Virginia Tourism Corporation said that doesn't mean people are staying home. They just aren't straying as far from it, she said.
BizSense recently talked to Bailey about how the recession is affecting the state travel industry and what that means for local businesses and consumers.
Below is an edited transcript.
Richmond BizSense: Family travel budgets are tight. How much business will there be for the Virginia tourism industry this summer?
Alisa Bailey: Most Americans plans to continue traveling, but they are looking for value and they are staying closer to home. That's a real opportunity for Virginia. (40 Free Things to Do While Vacationing in Virginia has been a popular draw on the tourism corporation's website, Bailey said.)
The younger generation [18-25] has already recovered, and they aren't worried about it. They are ready to spend money and spend it quickly. For folks 25 to 35 years old, consumer confidence is going the right direction.
RBS: How has your budget been affected by the economy? (The tourism corporation's budget was just over $16 million for the fiscal year ending this month.)
Bailey: Over the past year and a half, we had $1.7 million in cuts. After the Jamestown 400th anniversary, our money was down to 1996 levels.
During the last legislative session, we were given an additional $2.5 million that has a legislative mandate to be spent in D.C. and Virginia markets in particular ways. We are calling in a retreat to discuss how it should be spent.
We want the General Assembly to know we are a revenue generator. For every $1 they spend, we bring back $5 in taxes.
RBS: Have you noticed more interest in Virginia tourism as a result of travelers staying close to home?
Bailey: In May, we had a record number of unique page visits on our site.
RBS: So how has a typical Virginian's travel plans changed because of the recession?
Bailey: Virginians traveling in Virginia 50 miles from home is our No. 1 market, and that's not uncommon with other states. The No. 1 reason they travel is to visit with family and friends.
We also anticipate more interest in experiential vacations — something for people who want to get away and do something new. This impacts all areas of the state when people want to come to Richmond and do history kind of stuff or want to come and eat at great restaurants or want to do wine touring or something like that. All those things we have, and it is in a location that's in proximity to home.
RBS: Last year, high gas prices pinched summer travel. Now we are in a severe recession. Which of those has been harder on the local industry?
Bailey: Definitely the recession. Consumer confidence is way down.
In most of the polls, people are not unhappy with current gas prices, and that is not the reason they are opting not to travel. We wake up everyday to the Today Show and having Matt Lauer tell us doom and gloom. What's happening now is that we are seeing things come back, and coming back more quickly. But baby boomers are still cautious.
RBS: Different segments of the industry seem to be doing better than others. What travel businesses might have an extra tough time this summer?
Bailey: Lodging is going to be very flat. In 2008, the lodging industry did suffer. Attendance at museums has been suffering.
People are shopping for value. If you are a hotel or a golf course or an attraction without some sort of deal going on, you're in for it. The consumer is very discerning these days.
The meetings market for large conventions is going to be a challenge. In Northern Virginia, they are very nervous.
RBS: How have you targeted marketing efforts for Virginia tourism?
Bailey: A lot of our spring buys were mainly focused on the baby boomers. They still take three months to plan their vacation and decide on a trip.
Now our focus is on young families. These people are quicker to jump out of the recession and spend money on travel.
RBS: VDOT is proposing to close 25 rest stops. If approved, would that deter travelers in any way?

Bailey: It is something we will need to watch. We are developing a communication plan so our welcome centers can provide travelers with information. When rest areas were built, there was a lot less retail at these exchanges.
When we had budget cuts, we were not staffing welcome centers on Tuesday and Wednesday. The $2.5 million has allowed us to reopen our welcome centers at a time when we really need it.
Al Harris is a BizSense reporter. Please send story ideas to [email protected]