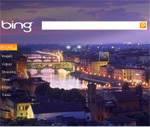 Bing, schming.
If you need to search the Web, Google is still your best bet. It's still the easiest to use and handles the dozens of searches most of us perform better than Bing, which Microsoft launched May 28. And for business owners, why mess with a good thing?
But there might even a hidden danger now that Bing has had its debut: It will encourage workers to spend even more time surfing the web rather than doing actual work.
In part that's because Microsoft's new search engine features a cool picture in the background that changes every day. If you click on various links in the interactive picture, you quickly set sail on the SS Tangent. The rub: None of this has to do with your searches.  Yesterday's picture was of Austin, Tex. I live and work in Richmond. So that's not particularly useful. It's a worrisome trend for business owners who might soon have to deal with even-more-distracted workers. (Of course, even in the days before the Internet, employees would spend too long at the coffee pot.)
An acronym is being bandied about for Bing: But It's Not Google. And that goes to the heart of the problem with Bing. It is nearly impossible to top the industry leader. If that doesn't sound so hard, try remembering what happened to the second and third versions of eBay. Microsoft should have learned this lesson when it released Zune, its supposed answer to the iPod. Several years after the release of Zune, iTunes and iPod still reign supreme in the portable MP3 player world. I don't know one person who even owns a Zune.
But back to Bing. Not only is Bing's flashy design distracting, compared with the clean minimalism of Google, but it's lousy at its main purpose: searching. I was particularly annoyed that the results aren't location-specific. For example, if you Google  "Coffee Shops Richmond," the top thee businesses listed in the directory at the top of the page are Café Gutenberg, Lift Coffee Shop and Harrison Street Coffee Shop, which are all locally owned. If you Bing it, the top six are Starbucks locations.
I had more success when I Binged "Richmond Delivery Service." The directory delivered a handful of local businesses in the top spots, but the top result was still a national company. A Google search turned out similar results, but the Virginia-based LaserShip took the top slot.
If you want to get to more local results, there is a hoop you have to jump through. If you Bing "Tech Support Richmond" and click on the "Local" tab in the left-hand corner of the results page, then you will get a handful of Richmond computer techs with phone numbers and maps. Still, that requires an additional step, and the Internet rewards efficiency.
But to Bing's credit, it has Google beat in one category: video and image searches. If you search "Rusted Root," who played at Friday Cheers a few weeks ago, in the video section you will find hundreds of live performances. If you scroll over the results with your pointer, the icon plays a preview of the video before you click on it.
I have to search online for about 30 things a day. The simplicity of Google's design and its useful search results make Bing a second-rate competitor. And because I spent a few days playing with Bing, it was natural, in the course of my research, to Bing myself.
That just doesn't sound right.
David Larter reviews technology for BizSense. He also covers health care, small business and nonprofits. Please send news tips to [email protected]