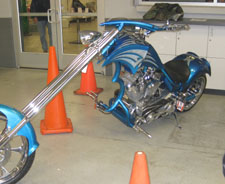 On Friday last week, the lot at the Richmond Auto Auction has a decidedly upscale section: Mercedes Benz, Jaguar, BMW and even a tricked-out motorcycle.
That's a big change from just a few months ago, when the South Side business was selling vehicles closer to what you'd expect: the sort of Fords and Chevys from state fleets and standard cars from car dealers who don't want to flip them.
On this particular Friday, bargain-hunters hover like vultures over bank repossessions, public consignments and police seizures picking up cars. A 1999 Jaguar sold for $3,500.
To that end, the auction serves as a kind of bellwether for the local economy.
"The economy goes down and the repos go up. If the economy goes up then the trade-ins go up," said Jeff Schuler, the marketing representative for the Auto Auction, which is a division of Motley's Auction Group.
About 50 percent of the cars on the lot are bank repos. The rest of the lot is made up of cars seized by the police, public consignments and dealer trade-in cars.
Schuler said he had seen the first big spike in repossessed cars about 8 months ago, which was a wide variety of cars from various income level households. In recent week however, he has seen more Mercedes, BMWs and Jaguars in the lot.
"My theory is that these were either people who held out till the very last minute or families where both parents had lost their jobs and they just couldn't pay for it any more," he said.
Some banks call the auction and are unsure what to do with the cars because they have never had to deal with repossessions before, especially banks that lend to higher income clients, Schuler said.
But Schuler said the recession had started a new trend; people started calling their bank to voluntarily have their car repossessed.
But for every one person trying to get rid of their pricey ride, there are several bidders waiting to swoop in and buy it at a discount price. Attendance has doubled from January, Schuler said. The auction is one of the few that allows both the general public along with dealers to attend.
'We are getting a lot more public consignments," he said "These are people who tried to sell their car on craigslist.com for a month and couldn't. So, they bring it here and get almost trade-in value for it."
The Richmond Auto Auction has three lanes, two of which are open to the public. Everything from custom motorcycles seized by the U.S. Marshals to a Fox News van to a Mercedes Benz with bullet-proof glass was on the block last Friday.
"Consumers who do their homework and track the weekly auction inventory online can come on-site and find front-lot quality vehicles available," said Dick Menendez, the chief operating officer at the auction.

David Larter is a BizSense reporter. Please send story tips to [email protected]