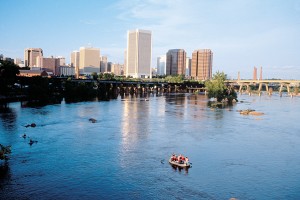 Richmond is one of the 20 best cities of its size for young professionals, according to Next Generation Consulting.
Next Generation is a market research group that focuses on the 20- to 40-year-old demographic. The firm's Next List is a ranking of the best places for Gen-Xers and Millennials to work and live.
Richmond came in 19th on this year's list of "Mighty Micros," or cities with between 100,000 and 200,000 residents. The group also listed 20 "Midsize Magnets" and 20 "Super Cities" (with populations of 500,000 or more.)
Making the list is good news for Richmond because it means the city is still in the game even after the ego-shattering losses of Circuit City, Qimonda and several other companies.
The bottom line is that Richmond remains an attractive place to live for young working people. That can be a key determining factor when major companies are looking to expand or relocate.
The list is developed by applying seven indexes to all U.S. cities with populations greater than 100,000.
The criteria are cost of lifestyle, earning, vitality (air quality, green space, health statistics), after hours, learning, around town (walkability, commute times, public transit) and social capital (demographics, crime rates, voter participation).
Fort Collins, Colo., was the No. 1 city in the small-size category, followed by
Charleston, S.C., and Eugene, Ore.
Richmond was ranked between Salt Lake City and Hampton, Va.
According to Next Generation's release, choosing a Next City "will increase the pool of talent from which you can choose, and therefore increase the odds that you'll acquire great employees."
Next Generation is based in Madison, Wisc., (which they ranked as the No. 1 mid-size city) and work as consultants for talent attraction and retention efforts of various cities and states including Charlotte, N.C., Nashville and Wichita, Kan.
You can view the full list via pdf here.