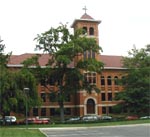 The recession does not discriminate. Affected organizations include those that are for-profit, nonprofit, secular or Catholic, as the case is at Benedictine High School, the Richmond parochial school that needed two emergency loans to keep operating.
But not because of a lack of students. The incoming 80 freshman boys will be one of the largest classes in decades. (You can read about the most recent admission cycle at area private schools in this story from March.)
In February, the school needed to borrow funds to make payroll. Then it borrowed $900,000 from a Catholic school organization. In part, the trouble stems from having to pay teachers instead of members of the monastery, who work for almost nothing. And in part it's from a lack of financial discipline, which included the building of new athletic fields in Goochland before all the funds to cover that project had been raised.
But change has come quick. The board of directors has been eliminated and a new head installed.
BizSense chatted with the Rev. Gregory Gresko and Bryan Walsh. Gresko was second in charge at the Mary Mother of the Church Abbey in Goochland and took over as head of Benedictine from outgoing Headmaster John McGinty. Walsh is a retired managing director and treasurer of Morgan Stanley who is helping nurse the school back to financial health. Walsh also co-founded the software firm Tridium.
Richmond BizSense: As major bankruptcies continue to trickle through Richmond, are more students having trouble paying?
Bryan Walsh: Yes, some parents unable to pay, but that's not a big driver [of the trouble].
We have increased over the years the subsidies we provide to students, scholarships, funds, grants, etc. That has been sort of a driver that helped grow the attendance at the school. That relies on the endowment, which has fallen like all investments.
RBS: Has all the media attention (stories in Style Weekly and the Times-Dispatch last week) helped with emergency fundraising?
Gregory Gresko: Yes, surprisingly so. We've approached several folks directly with some ideas they wanted to discuss.
RBS: One problem sounds like it's the cost of the teachers, which are more expensive than 20 years ago, when clergy taught most of the classes.
Walsh: That problem goes back 20 years or more. One of solutions is to have more monks come in over time in key positions. They don't have to get paid as much as someone with a family. In fact, they more or less volunteer their time.
RBS: Is there an adequate supply of monks?
Walsh: Yes, surprisingly we have a number of monks who want to join monastery. Some have advanced degrees.
Gresko: Some of our new monks bring with them their expertise. They are even coming from local colleges and universities.  That wasn't the case five years ago.
RBS: Were the new athletic fields, which cost more than $500,000 in 2001, a major problem?
Walsh: Well, the fields were needed and are now an excellent asset for high school. But, the financial support that came as result of the capital campaign were not enough to pay for those facilities.
RBS: There has a rumor that the school considered selling the building to the Museum of Fine Arts.
Walsh: That's on a list of things, but it's the last thing we would want to do. Having said that, if we can't execute on some of these other things, we have to consider all options. The museum's interest in the school, from my understanding, is not new. They've expressed interest in the past.
RBS: Is there a dollar figure in those talks?
Walsh: There are no talks.
RBS: Is this a challenge to private education in general?
Walsh: Everyone is hurt by what happened in the financial world. A lot of schools use their endowment funds to help finance tuition and on top of that provide the education piece. I'm guessing they are all reexamining [things] over months and years.
Aaron Kremer is the BizSense editor. Please send news tips to [email protected]