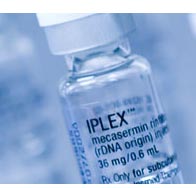 Geoffrey Allan, the chief executive at Insmed, has stepped down for health reasons, according to a company news release.
Allan has served as Insmed's president, chief executive and chairman of the board since its inception in November 1999.
You can read the release here.   The release does not say what ails Allan.
The timing is not good for the company, which was making progress on another use for its drug Iplex. Click here to read in the New York Times about Lou Gehrig's disease patients who are testing Iplex as a possible treatment.