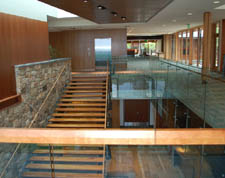 If every building had a soundtrack, the 60,000-square-foot addition to Luck Stone's headquarters in Goochland would be blasting the '70s band Earth, Wind and Fire.
That's because the expanded digs, designed by SMBW Architects, has levels that are – no joke – named Sky, Earth and Core.
"Throughout the design of the building, each area has outdoor meeting space and work area where folks can enjoy the outdoors," Luck said.
Indeed, the low-lying building blends in with nature, opening up on the back to expansive views on the south.
Charles Luck IV, who was profiled Monday in the Times-Dispatch, takes BizSense on a tour of the new and improved headquarters.

Recent Office Sense Episodes:
Click here for a tour of Boxwood Partners HQ
Click here to tour the offices and aircraft of Martinair