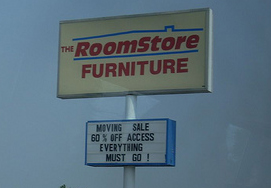 Richmond-based furniture company The RoomStore took steps recently that could lead to public trading of the retailer's stock.
Furniture Today magazine reported that the company filed a Form S-1 with the Securities and Exchange Commission in April and is currently in a comment and revision period with the regulatory agency.
The private company is the last surviving piece of Heilig-Meyers, which filed for bankruptcy protection in 2000. In 2005, the RoomStore emerged as a separate company with 71 percent of its common stock held by the Heilig-Meyers Liquidation Trust.
The trust held an agreement that they could require RoomStore to register the stock with the SEC at their request. The recent filing is a result of that agreement.
In the article, RoomStore spokesperson Brian Bertonneau explains what happens next:
When the SEC finally accepts an amended registration, RoomStore will go from a private stock corporation under Virginia law to a public corporation under state law and will be required to file quarterly and annual reports with the SEC, Bertonneau said.
"But that doesn't mean a market for the stock will develop immediately," he said. "It may take awhile."
He said he couldn't speculate on when RoomStore might become a publicly traded company.
According to the company's SEC filing, it had sales of $245.8 million and a net loss of $11.3 million during the nine months that ended November 30.
Furniture Today ranked RoomStore number 26 in their most recent list of the top 100 furniture stores in the country. The company operates 69 stores in eight states, and also owns a majority stake in Mattress Discounters.
Heilig-Meyers formed in 1913 when two Lithuanian immigrants opened the first store in Goldsboro, North Carolina. The company continued to add stores and established headquarters in Richmond in 1951. It first went public in 1972, and at its height in the mid-90s had 870 stores and over $1 billion in annual revenue. RoomStore was operating as a separate unit with 57 stores before Heilig went bankrupt.
Read more about Heilig's bankruptcy here.