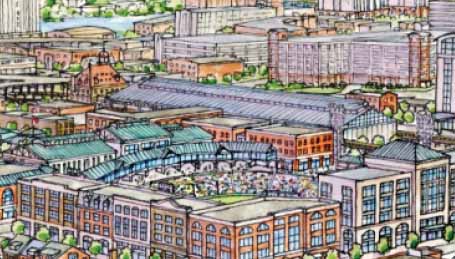 Maybe Highwoods Properties just lost its patience.
The Raleigh-based development firm announced Tuesday that it is pulling out of its proposal to develop Shockoe Center, a $350 million retail and residential project that was to be centered around a minor league baseball stadium.
Mayor Dwight Jones was tepid on the plan throughout his campaign and the first few months of his administration, never giving it his blessing, nor striking it down all together.
Much of the land is currently a parking lot. Restaurants and shops in Shockoe generally supported the plan.
It's unclear how much money the firm spent on legal and engineering work to see it be scrapped.
In a statement released Tuesday, Mayor Jones said, "At this time the situation afford us an avenue to fully reengage our regional partners in the discussion of the direction we as a region wish to move in."
In a front-page story today, the Times-Dispatch reports that consultants hired to study the plan concluded it would be "highly likely" with credit support from the city but not without it. The Times-Dispatch also reports that Highwoods did not intend to pursue financing in the current market.
However, plenty of municipalities have sold bonds recently at reasonable rates of interest, so that may not have been as big an issue as the press releaseses suggest.
BizSense's take: Several news stories reported that the potential local ownership group could not close the sale because they couldn't raise the $15 million needed to buy a Connecticut team. But more likely, the indecision of the Mayor to bless the project probably scared off potential investors. The ownership group assembled by Bryan Bostic wanted to run the team in a new stadium with better amenities and more focus on family entertainment. That was part of their business plan.  And despite a vocal group of opponents, they believed that with the right management and right marketing strategy, the team would draw enough fans to support the business. However, they did not want to run that sort of business in the dilapidated Diamond. So, it stands to reason, that the investors likely didn't have enough confidence in the City of Richmond to navigate the politically-charged issue and get a stadium deal done. Again, no BizSense reporter was invited to any negotiations, but several sources have suggested that there was too much risk.
Highwoods was handling the commercial and residential component. The baseball stadium was the key part of the Shockoe Center project. Without a team, there was no reason to build the $60 million stadium. And without a stadium, no reason to build more office and retail space.