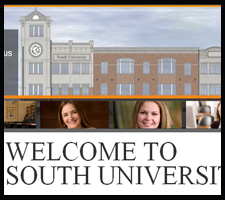 South University, a private institution with six campuses across the southeast United States, is opening a Short Pump location.
South University will invest $12 million and focus on health occupations, business management and psychology.  Many of the university's students are seeking a career change or an advanced degree.
The school will initially add 60 jobs to the region – 25 support staff and 35 faculty members – according to Dennis Corrado, president of the Richmond campus.
The operation will occupy 30,000 square feet at West Broad Village and will serve mostly commuter students. Corrado said the university would open in October for its first quarter. Unlike Virginia Commonwealth University, the University of Richmond and Virginia Union University, South operates on a quarter system. Classes run year-round.
A student who starts at South with no transfer credits could finish a bachelor's degree in three years. The tuition will average about $4,985 per quarter, making the average price of a bachelor's degree around $60,000.
Corrado said he hopes to keep class sizes under 32 students. He said the university is looking to expand to 50,000 square feet by next year and add more degree tracks in health care.
South has campuses in Columbia, S.C., Montgomery, Ala., Savannah, Ga., and West Palm Beach and Tampa in Florida.
"We chose Richmond because of the quality of life and because of the high numbers when it comes to people with bachelor's and advanced degrees," Corrado said. "I've been here for two months and everyone I've met has been so open and warm. We are excited to be part of the community."
The university is looking for faculty from across the country. Corrado said he would be happy if he could find his faculty locally.
In 2007, the university had an enrollment of about 6,600, more than half or which were pursuing a bachelor's degree. Although the Richmond campus will serve mostly commuters and there will be no dorms, Corrado said that students would probably use housing at West Broad Village.
South University will likely compete with the University of Phoenix, which has a building farther east on Broad Street.
David Larter covers the business of higher education for BizSense. Please send news tips to [email protected].