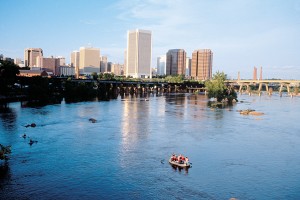 Richmond is a top ten city for starting over, according to BusinessWeek.
The city was picked as number six, between Omaha, Nebraska and Winston-Salem, North Carolina.
The rankings were based on the percentage of companies planning to hire in the third quarter, according to an April survey by Manpower.
Twenty-two percent of Richmond companies are planning to hire, according to the study.

From Businessweek's description of our city:
Richmond has a diverse economy, which includes chemical, food and tobacco manufacturing, biotech, high-tech fibers and semiconductors. For those who want to start over with a job in the arts, it has a symphony, ballet, art galleries and theater companies.
That is no comfort to those who feel stuck in Richmond and want to start from scratch somewhere else.
Those folks may want to move to the number one city on the list, but they better remember to pack a parka. The number one city: Anchorage, Alaska.