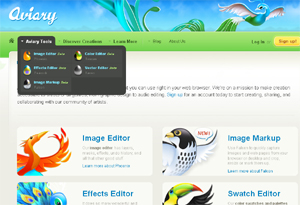 Every small business needs a photo-editing program for tasks such as designing logos, tweaking headshots and designing PowerPoint slides.
But a copy of Adobe Photoshop costs $350 to $400. That's probably a necessary cost for businesses that have a dedicated marketer who can learn to use it. And the Visual Arts Center has night classes that speed up the learning curve. But if $400 is too rich, try using Aviary's digital imaging suite. The cost: zilch.
Aviary, a small startup company in New York, has decided to take on the industry giant, and what they have come up with is user-friendly, powerful and free.
I spent an afternoon cutting undesirable people out of photos from my weekend and putting myself in them. Cropping was a breeze, in part because the program feels like Photoshop for kindergarteners, complete with large buttons. It's also way better than the free software that comes with most digital cameras.
Aviary runs directly from your browser, and it's so easy to use that it cuts down on the man-hours it takes to master some digital imaging software. Additionally, it eliminates the need for the expensive computer hardware that it takes to run some programs.
Aviary has released five applications: Phoenix, Falcon, Toucan, Raven and Peacock. Phoenix is the original application and it is the photo editor. Many of the tools in the Phoenix suite will be familiar to Photoshop users, but the interface is much different.
In Phoenix, instead of clicking on tools and then applying them to your canvass, you click on the tool in the panel on the left side of the screen, drag the tool into your workspace and connect it to the original image. Then the options for the tool you selected appear in the right panel, and you make the adjustments you want. To see a demonstration, visit Aviary's website here and click on the video.
Any work you do in one Aviary application, you can transfer to and continue editing in another Aviary application. You can create and blend colors in Toucan and use them for editing in Phoenix or for creating graphics in Peacock. Raven is a vector editor, which you can use to create nifty designs for logos or T-shirts or putting a mustache on the boss. Mustaches always kill.
I found the entire suite easier to learn than Photoshop. I've taken dozens of online tutorials on Photoshop and have only recently felt comfortable using it. I figured out at least the basics of Aviary in one afternoon.
As a bonus, the website will launch the program within two clicks and does not make you sign up for anything to toy around with its powerful applications. That's often a big drag when testing new software.
The latest application, Falcon, is an incredible mark-up application. It works as an add-on in Mozilla Firefox or as an independent application. It allows users to capture images from the web and transfer them into the other applications for editing and design. It also allows you to sample colors from the web and use them for whatever art you are creating in the Aviary suite. You can also add notes, captions and arrows to images.
Aviary does offer a pro service that cost $25 a year, which earns you a few bonuses such as beta testing new applications and better customer support.
One drawback to using this free software is that any work you do can be used for display by Aviary, although you will be listed as the creator. For example, your art could be used as an image for a third-party news article about Aviary. If you subscribe to the pro version and set the image rights to private, Aviary cannot use the image without permission from the user.
Aviary could be a godsend for the marketer on a budget or for anyone who needs a great tool for creating graphics on the fly or to touch up a picture before posting it to Facebook or a company website.
David Larter writes about technology for BizSense. Please send news tips or neat web-based software he should test to [email protected]