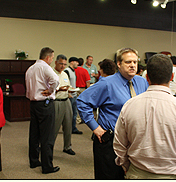 When Stan Bohanon moved to Richmond from Williamsburg, there were plenty of networking groups to choose from all over town. But Bohanon had the vision of building a different kind of networking organization. He's now the Founder and President of the recently-organized Glen Allen Business & Professional Association.
Bohanon said he noticed there was a need that wasn't being met with the current networking organizations in the West End. Many of the existing groups were too large and didn't focus on building business relationships. Bohanon set out to create one that would cap its members at around 200 people and keep its sights on helping those who attend acquire highly-personal, hyper-local business contacts.
Bohanon set up a group on Meetup.com, a website devoted to matching people with others that share similar interests and forming meetups based on those connections, promoting the idea of starting a group in the Far West End. Interested business people soon came forward.
Dan Steiner, owner of Steiner Business Solutions, found the Meetup group and subsequently helped get the association on its feet.
"Stan came to me and found out what I did," Steiner said. "He asked me to help him build his company and I wrote his business plan." Steiner now serves as Treasurer of the organization.
"The biggest difference between us and an event such as one held by the Chamber of Commerce is our introduction system." That system matches new members with businesspeople already in the group at organization meetings.
"We want to make sure that people that come in get effectively introduced throughout the room to people and their business opportunities. That's the thing we keep focused on. They come to network, and we want them to leave thinking, 'Wow, this was a good event and I got several new prospects.'"
Bohanon says he's seen a lot of reciprocal business within the organization since its inception just over six months ago. "I've seen a lot of business being done from member to member." He pointed out examples such as a landscaper using an accountant and vice versa, both of whom are members of the organization.
"We foster the building of business relationships. That's really our job. Part of that of course is to give as many member benefits as we possibly can to make sure the member is getting true value for their membership." Bohanon wants every member to get at least a tenfold return on their membership investment. Many members choose to offer discounts on products and services their businesses offer to other members as part of that commitment.
The Glen Allen Business & Professional Association hosts monthly "After 5? networking meetings and has been gathering at one member's furniture showroom, Cort Furniture on West Broad Street. Meetings will be moved into a ballroom at the new Wingate Hotel behind Dominion Chevrolet in Short Pump possibly as soon as the end of the summer.
The larger meeting space will allow the organization to initiate other plans it has in the works, such as vendor booths and more space for food catering tables.

Trevor Dickerson founded DowntownShortpump.com, where this story first ran.