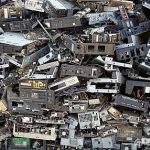 Northern Virginia-based technology contractor Northrop Grumman has recently come under fire for being six months behind on a $2.3 billion contract to administer the state's computers.
Legislators are now poised to scrutinize the costly 10-year contract.
But that is the least of Northrop's problems.
A team of Canadian student journalists investigating the global electronic waste industry in Africa purchased seven hard drives at a market in Ghana for $40.
One them once belonged to a  current Northrop employee and contained hundreds of documents related to government contracts.
From the article in PC World:
Northrop Grumman is not sure how the drive ended up in a Ghana market, but apparently the company had hired an outside vendor to dispose of the PC. "Based on the documents we were shown, we believe this hard drive may have been stolen after one of our asset-disposal vendors took possession of the unit," the Northrop Grumman said in a statement. "Despite sophisticated safeguards, no company can inoculate itself completely against crime."
The documents detailed contracts with the Defense Intelligence Agency, NASA and the Transportation Security Agency.
Data from Virginia have not been reported to have been found on any of the drives.
And with a price tag of $2.3 billion, let's hope it never does.