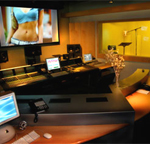 A Virginia Beach-based production studio is opening a location in Richmond later summer. It will be the studio's seventh.
Studio Center, owned by former Clear Channel executive William Prettyman, has a nationwide presence producing radio jingles and TV commercials.
"Richmond is a great market because it has a deep and wonderful advertising community," said Prettyman, "There are a lot of very talented creative people in that market."
In addition to commercials, the studio records voiceovers for television shows including Dora the Explorer and A&E Biography, as well as video games.
The studio will occupy 5,300 square feet in the old Style Weekly headquarters in Scott's Addition. Prettyman said they would have a video studio, two audio studios, two control rooms, an audition studio, a kitchen and a lounge. Renovations are underway.
The studio, which is planned to open in August, will employ up to six people full time, but Prettyman said more than 100 people will work there throughout the year either part time or as independent contractors.
The studio regularly outsources work to freelancers, although most of the voice work falls to an exclusive cadre of voice actors Prettyman already has under contract.
Prettyman, 46, was Clear Channel Communication's vice president of sales for all of Virginia until 2002. He oversaw ad sales for the local radio stations Q94 and B103.
After leaving there, he went on to purchase Studio Center in 2004, which was founded by Warren Miller in 1966. He quickly took to expanding the business, adding studios in Los Angeles, New York, Memphis, Las Vegas and elsewhere in the Tidewater area.
Since Prettyman bought the company, the business has grown 50 percent each year, according to a recent article in the Virginian-Pilot.
Prettyman said that they didn't have any specific jobs lined up for the Richmond studio but that they will likely transfer work from existing clients such as Hanes, the Dump and the Virginia Lottery.
Al Harris is a BizSense reporter. Please send news tips to [email protected]