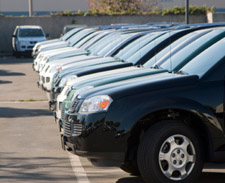 You may have seen the commercials, featuring Ted Linhart, the president of Dominion Auto Group, encouraging TV viewers to come out for some huge tent sale or other car promotion.
Linhart's two dealerships located in Short Pump and Colonial Heights have suffered along with every other dealership as consumers have cut way back on big-ticket purchases like new cars. He had 252 employees. That figure is now around 174. And he's now having trouble sleeping through the night.
But Linhart has been busy lately trying to steer his dealership through the morass. He recently bought the entire inventory (more than 400 cars) from Whitlow Chevrolet, which decided to get out of the Chevy business.
And now Linhart is gearing up for a big sale starting Tuesday to get rid of all his new purchases and to try and turn his luck around. BizSense talked with Linhart about the challenges of selling cars these days.
Below is an edited transcript.
Richmond BizSense: What led to the decision to buy Whitlow Chevrolets inventory?
Ted Linhart: It was pretty much a straight forward business deal. All car dealers are on the same 5 year contracts, and those contracts expire on September 30, 2010. In May GM sent out letters to about 2800 dealerships telling them that their contracts would not be renewed. They could stay in business, but they would not be given any new inventory. So I called some of the dealerships which I thought might have been affected. I approached George Whitlow, he's a personal friend of mine, and asked him if he wanted to get rid of his inventory now or take his chances selling them off of his lot. I don't want to speak for him but I suppose he decided he'd rather get 100 cents on the dollar for his inventory than take his chances and get maybe get 90 cents on some cars and 105 on others.
RBS: So you did this as friend?
TL: I wouldn't assign too much altruism to me. We're all friends but we're all fierce competitors. If there is going to be a fire sale, then it's better to be the person setting the fire than the one skewered on top of it.  But I think it was a good deal. I think he probably thinks he didn't get enough for his inventory and I think I paid too much so it was a great deal for both of us.
RBS: Now that GM has filed for bankruptcy, is demand down for GM cars? Will Americans really buy a car made by a bankrupt company?
TL: Demand is absolutely not down. In fact June was the best month we've had since August of last year. Now, when I say that, it needs a little perspective. August wasn't that great of a month either. We are certainly not where we want to be, but it was good to see better sales.
RBS: So from your perspective, are things starting to turn around?
TL: I think so. I don't have any scientific way of measuring the economy but I do have a good perspective on it. The car business is broken down into five parts. New cars, used cars, parts, service and body.
Used cars are doing reasonably well and that's because used cars have a lower price-point and it's driven by economic necessity.
The parts business isn't robust it's starting to pick up. Before, mechanics were calling and instead of asking for the whole transmission, they'd just ask for the parts to fix the old one. Instead of replacing the rotors on the brakes they just have them resurfaced. Now customers are starting to ask for the whole parts.
For the body shops, I'll tell you that repairs on drivable accidents stopped in December. Customers were deciding that fixing a few dents was not a priority. But the body business was the best in May than it has been since September.
The service business is broken down into what I should do and what I have to do. Do I have to rotate my tires? No. Should I? Yes, they will last longer and I'll save money in the long term. People are starting to do more of those things that they should do.
New cars? Well in recessions, new car sales are the first to stop and the last to turn around. While those sales are not good, like I said, we're seeing improvement.
Business is a little better but it's not great. Again, there is nothing scientific about it but I see enough to know that individuals feel better. When it comes to recovery there is so much of that in this. We think things are going to get better so they do. I think now people are reasonably satisfied that things are not going to get any worse.
RBS: Why do people sometimes feel like they are getting duped when they buy a new car?
TL: Cars are one of the last major transactions that do not have a regulated profit margin. In a lot of ways, I can understand what the customer is going through. I think the type of transaction makes people nervous. But I think that sometimes our industry doesn't get a fair shake. People who go to buy a car are getting advice from their friends telling them that they have to be strong and they get all kinds books telling them how much their car is worth for trade-in. So if they don't get what they expect they think that they are getting stolen from. But perhaps the book was wrong or they had problems with their car that they didn't know about. So that's where training comes in, plus we try to match the right sales person with the right customer. Some people are very direct and they know what they want. Some customers need to come back several times before they make a purchase. And the wrong sales person can drive a customer away. That's why a good floor manager knows his customers and knows his sales people.
RBS: What was it like being in the car business during these past few months with the bankruptcies?
TL: It's been extremely stressful. I'm a part of this best practices board and we met in Chicago to play out the GM bankruptcy and the worst case scenarios. After that I was able to wrap my head around the thing. We made all our changes by December 1st, to prepare for those worst-case scenarios. We went from a peak of 252 employees to now around 174. I don't anticipate any more layoffs. Everything we are doing now is just tweaks. Some employees that were full time are now part time. Some employees that were working, say, 35 hours are now working 30. But yes, it has been very stressful. I cannot tell you the last time I slept through the night. It's been a long time. But I think we've made all the changes that we need to make.
RBS: Are you excited for the sale starting Tuesday?
TL: You know, I am. It will be interesting . We've got five banks and 30 credit unions ready to go. I think we could do quite well. People are not going to have trouble finding credit. Banks want to lend. What's changed is that people who maybe shouldn't have been getting a credit line who were getting it before, those people aren't getting credit any more.
David Larter has been covering the car dealers for BizSense. Please send news tips to [email protected]