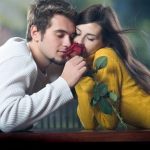 The weather is heating up, the economy continues to cool and love is in the air.
According to the Associated Press, people are turning to romance for stability and to distract themselves from economic woes during the recession.
The article quotes a University of Richmond neurology professor.
"Misery loves company, especially if the prospect of romance and or sex looms large," said Craig Kinsley, a neurologist at the University of Richmond. "Really, dating, rather than being considered as expensive, can be a thrilling and inexpensive distraction. Like getting drunk without the wallet-hit or hangover."
Kinsley said stomach-fluttering first dates also release brain chemicals that can temporarily erase worries, even about 401(k)s and layoffs and falling portfolios and upside-down mortgages.
Dating site eHarmony.com has seen a 20 percent increase in traffic, even though the site charges as much as $60 for membership. Traffic to OkCupid.com is up 50 percent.
But restaurants, which have been struggling through the downturn and have had to add cheaper menu options,  have not seen the kind of increase in sales that this "love-surgence" might seem to imply.
The article suggests that people are starting to skimp on discretionary spending directed at wooing a partner.
Continued:
Still, Sam Yagan, the founder and CEO at OkCupid.com, sees the changing dating climate as a matter of dollars and cents.
The way he figures it, a man can spend $100 buying drinks at a bar trying to pick up a stranger and leave with little more than a cold shoulder. But, when he's in a relationship, a Saturday evening can be as simple as Thai noodle takeout, Netflix and some fun under the covers. All in all, Yagan said, that's "more bang for your buck."
But those on the prowl are starting to look for more substance than flash. People are looking for partners who might not have met their standards before the downturn.
A gentler tone is taking over, daters and observers say, with substance gaining over style.
For Mili Thomas, a 28-year-old graduate student in New York, that means she now spends time with men who didn't show up on her radar screen before the recession. Among them: a Ph.D. who would have been nixed because he lives in New Jersey and an employee at a marketing firm who wouldn't have made the grade because he is two years her junior.
David is a BizSense reporter. Please send news tips to [email protected]