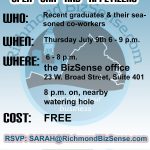 BizSense wants to officially welcome the latest class of college graduates to Richmond. So we are having an open house/networking event after hours Thursday. As always, we want to invite everyone to come out, and if you hired a young professional recently, please bring him or her along.
So stop by our office at 23 W. Broad St. for some refreshments (barbecue, beer and wine). It'll be a good way to network with some of the area's finest business minds.
Hours: 6 to 9 p.m.

Cost: Free

RSVP by emailing [email protected].