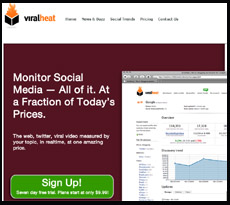 ViralHeat is like an Internet babysitter for your brand.
If you run a business and feel the need to tweet and friend and get LinkedIn (you can read our series on that here), now there's a way to double-check whether it's a good use of time and a way to see whether you can trust those cyberfriends of yours.
The service is also ideal for businesses that don't bother with social networking because it still measures who's talking about your company online.
And because it just launched yesterday, only the cool kids know about it.
ViralHeat tracks hundreds of social media sites and other websites and feeds you back organized data on who is talking about your business and where those chats are taking place. The data are compiled and displayed in real time.
It is as if someone Googled your company name and refreshed the page continually while compiling all the data. For example, if First Market Bank had a ViralHeat account and someone tweeted, "First Market just adjusted their auto loan rates, I'm thinking about getting one," then the ViralHeat website would display that tweet and would have user information on who posted it, including that person's profile picture.
It might be creepy to know that your tweets are instantly tagged and tracked by curious eyeballs, but that creepiness is one of the more useful features for the ones trying desperately to follow the chatter.
Having user data on those who are mentioning you can give you valuable market research. It can also save you the time of Googling, Twittering and Facebooking just to see what people are saying about you and your company.
Bless those nerds who keep building cool technology.
But wait, there's more. Say someone rips First Market for denying them a loan in Twitter – ViralHeat can actually tell you how influential that person is because it will tell you how many followers that person has. If they have 27, you probably don't need to worry too much. If that person has 15,000 followers, call the PR firm pronto.
ViralHeat also has a dedicated video site that searches just videos about your company. It claims it is searching more than 200 video-sharing sites worldwide for the latest smear-job on your company.
ViralHeat compiles the information on most of the social media sites, including Facebook, YouTube, Vimeo and LinkedIn. It takes the information and puts it in a graph that will tell you which days your business is referenced the most on social media, the number of references and the number of references with links attached. Those metrics, in turn, give you a precise measure for that new social media campaign you launched.
There are several other startups that offer similar tracking services, such as Radian6 and Visible Measures, but ViralHeat's main sell is the price: $10 a month.
It's also as easy to set up as a Google news alert, and ViralHeat has big buttons and a simple layout that directs you to relevant data.
(I know this is something I mention often, but simplicity in web design is paramount to a successful site. If you don't believe me, check this out)
ViralHeat is a must for most companies. It's worth the price tag to see who's talking smack. And for fans of social media, it also adds another arrow to the virtual quiver.
View the demo here.

David Larter covers technology for BizSense. Please send news tips to [email protected]