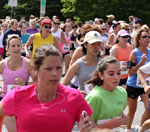 The slow economy isn't slowing down Richmond's energetic gang or runners.
Just try to take a walk in the Fan or the West End and you'll have to navigate around them.
"We've seen an explosion in people who are active runners in the past 10 years, and that hasn't changed because of the recession," said Jon Lugbill, executive director of Sports Backers, which promotes sports in Richmond including several popular road races.
Lugbill said that despite the recession, participation in the events such as the Monument Ave 10K rose by about 1,500 people compared to last year. Participation in other events has remained level. But the events may be even more popular with locals, Lubgill said, because those from farther away are not singing up as frequently as they used to, but the overall numbers are stable. It stands to reason that more local runners are coming out to make up that difference.
The Sports Backers' running club, meanwhile, has about 2,400 people and that has remained level through the downturn.
"We're not a business that typically suffers in a recession. We've actually added two events, the Anthem Moonlight Ride and the Henricus Dauber Dash. People are still being active and adults are still participating."
An article in yesterday's Wall Street Journal reported that participation in Marathon's, 10K's and other high-intensity exercise competition is up since the recession began. The article said that people who have been laid off are turning to running and other exercise as both a distraction and a way to focus on other things that unemployment.
Americans might be poorer, but they certainly aren't slower. With the economy in the doldrums, more people are discovering that without those 12-hour workdays, they're able to pursue fitness goals like never before. Marathons, triathlons and road races are filling up in record time.
Some evidence suggests that laid-off marathon runners are actually helping push up the level of competition within their age groups. Olympic-level competition could even go up because more elite athletes coming out of college are opting to pursue their athletic goals rather than look for work in a dismal job market.
And that is impressive because running, despite what it may seem, is an expensive sport.
Christine Pruax, an employee at Road Runner Running Store in Carytown, said that a solid pair of running shoes will cost between $85 and $110, and those need to be replaced after 300 – 500 miles.
Dan Petty, a 2009 graduate of University of Richmond where he was on the cross country team, said that a serious runner will go through a pair of shoes every five to six weeks.
"At the peak of our training we were running about 80 to 90 miles a week, some of the guys more than that," Petty said. "So we were going through shoes pretty quickly."
"Anyone can throw on a pair of gym shorts and a t-shirt and go running, but if you don't have the right kind of support on your feet you can really do a lot of damage."
Pruax said that the Road Runner Running Club had more than 1,000 members and that, if anything, sales had gone up during the recession.
"I think it is a great coping mechanism, and it's one of the healthiest coping mechanisms also," she said.

David Larter is a BizSense reporter. Please send news tips [email protected].