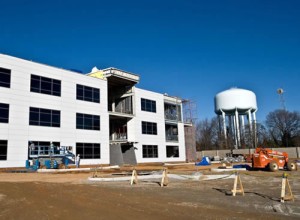 Senator Jim Webb announced today a $2.3 million boost to Richmond's public transportation system.
The Greater Richmond Transit Company received the grant from the Department of Transportation to fund the new bus administrative and maintenance facility being built in Southside. A portion of the money will be used to purchase two new buses to replace outlived vehicles.
"Today's $2.3 million grant will help ensure public safety, bolster security measures, and benefit Richmond's capital needs—while putting area residents to work," said Webb in a press release.
John Lewis, CEO of the GRTC, said the grant will ensure the new facility is completed on time and on budget.
The current site of GRTC's headquarters and central garage is located on prime property in The Fan, creating a major developmnet oppurtunity when they move. Lewis has previously said they hope to sell the property and play some role in its future development.